Are you a custom home builder or remodeler? You might be investing time and money in outdated wiring practices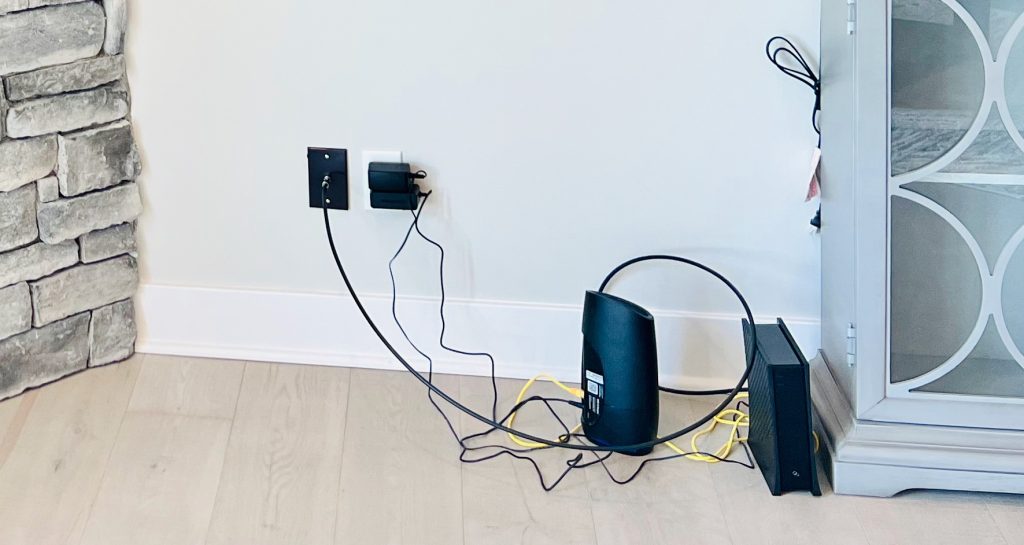 As technology continually advances, keeping pace can be daunting, especially when you're accustomed to incorporating very little technology in your builds. Fortunately, we're here to help you stay updated and make sure that it is done in a way that will benefit your clients. This post will explore six home technology wiring habits that you should consider breaking.
1. Obsolete Cable Jacks
Coaxial cables were once necessary for home entertainment. However, over half of homeowners have ditched cable TV with the advent of streaming services. Installing new homes with cable jacks wastes resources, time, and money.
Instead, consider running multiple Category cables like Cat6 to TV locations. This approach ensures a robust connection and keeps streaming data load off your WiFi. Cat6 is versatile, providing options for hardwired network, sharing video sources to multiple TVs, smart home control, and TV audio fed back into the whole home audio speaker system.
2. Volume Knobs: A Thing of the Past
Modern homes have moved away from volume knobs or sliders as a means to control audio zone volume. Instead, home audio systems now utilize interactive platforms for music selection from streaming services. Users can easily and precisely adjust sound levels from anywhere using a phone or tablet app.
Volume knobs in a modern home audio system can add confusion to the system operation and they can become an added point of failure. Instead, consider multi-room audio systems with app control for efficient use and maintaining the highest standards of quality.
3. The Problem with HDMI Cables
Despite being essential for audio/video transmission, HDMI cables have inherent issues. They were designed to protect proprietary content from piracy. This security negotiation often leads to technical problems, especially with long HDMI cables run through walls in a home.
Instead of relying on HDMI cables, consider running a Category 6 or higher wire and utilize an HDMI extender or balun. This approach ensures a stable, high-definition signal and reduces the likelihood of errors and frustrations. The baluns can be updated over time as technology changes.
4. Home Networks: The Heart of Connectivity
In the age of connected devices, a reliable internet connection is pivotal. Limited WiFi can affect productivity and entertainment in a home. For larger homes, the WiFi solutions from your client's Internet Service Provider or from the nearest home technology super-store aren't always able to provide a worry-free connection.
To provide stable and frustration-free WiFi coverage, consider prewiring for a data jack for stationary devices and wiring for a WiFi-producing Wireless Access Point (WAP) for every 1500 square feet throughout a new home. This approach ensures a reliable home network after constructing a new home.
5. The Value of the Right Conduit
AV cabinets in the main living space are a thing of the past. Installing conduit during the new home prewire process can aid in hiding system components and simplify future system upgrades. It's not merely about placing plastic tubes in walls; it's about ensuring future-proof technology pathways. For optimal results, we recommend a 1.5" diameter conduit. One-inch conduit could prohibit the running of certain cable types. A conduit from the unfinished area of the basement to the attic can also simplify running system wires to top-floor locations in the future.
6. Understanding Your Clients' Needs
You can be the hero for your clients by engaging with them early in the design process about their needs for TVs, music, security, surveillance, WiFi, etc. This approach can make things easier after they move into their new home.
Ignoring the prewiring for home technology is a missed opportunity. Partnering with a home technology specialist gives you an edge over other builders, opens a new profit stream, and leads to happier clients overall.
Going 100% wireless with technology immediately limits your clients to only the technology that is wireless. Wireless technology is getting better all of the time, but there are better, more reliable options in each wired product category. Running wires after the home is built is extremely difficult and it would be hard to justify the cost, effort, and mess to run wires for a reliable solution.
In Conclusion
Home builders and remodelers, remember that staying on top of the technology curve is essential to remaining competitive. Outdated solutions like coaxial cables, volume knobs, and long HDMI runs should no longer be part of your builds. Discussing home technology early in your build process can save you, your clients, and subcontractors hours on the project's back end. Partnering with a home technology specialist will give you an advantage over other builders in the area, open a new profit center, and lead to happier clients overall.
We are here if you or your clients have questions about home technology. We promise we will make it easy. Start here.