A lifetime passion for technology and making people feel good in their homes
Scroll to discover our story and your advantages of working with us
Hi, I'm Rob, the founder of Longwire. I started my company in 2010 after working for 10+ years in the industry for another company. Prior to Longwire, I witnessed first-hand how unfairly clients were being treated by many contractors.
Customers were never prioritized and they always got the cheapest quality products at the highest prices. As someone that values integrity, I wanted to try a different approach. So I decided to do things my way and bring homeowners, like you, the service and experience that they deserve.
My profession is a part of who I am. Entertainment and music are ingrained in me and play a big role in my life. More than that, there are few things that bring me as much joy as when I hand over a newly installed home theater or audio system to my clients and see their reaction. It's absolutely incredible and I am humbled and honored to play a part in enhancing their lives.
At Longwire we do it once and do it right. We take tremendous pride in our work. Does it look and feel like a professional installed it? A beyond-expectations customer experience is our goal.
To exceed your expectations, we do more than just enhance your home with a technological system. As a company, selling things is not our priority. Building long-term relationships with you and showing you how to upgrade your home to suit your lifestyle is important to us. At the same time, you can expect us to keep you up-to-date on the advancements and evolution of new home technology systems so that you can get the latest systems and enjoy them in your home.
We help our clients by designing and installing systems that anyone in the family can use and enjoy. All you have to do is hit a button and enjoy life.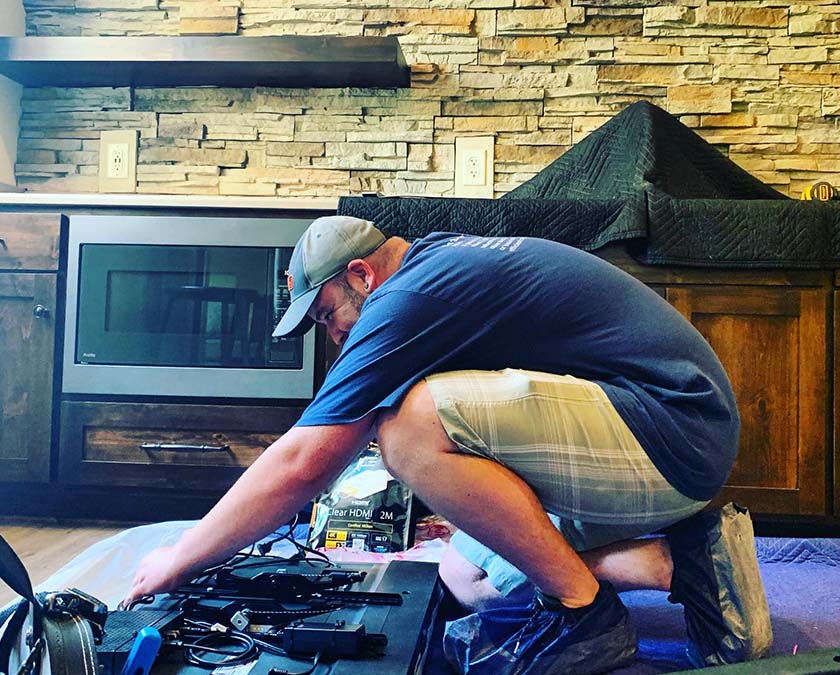 The Proof Of Happy Customers
Don't take our word for it, read what our previous clients say about us and the work we have done for them, and decide for yourself whether we are the right company for you. We stand behind our work and would love to add your testimonial to our list.
THE BEST IN THE BUSINESS!!! I needed two difficult installations and received multiple quotes.
Longwire was in the middle to lower end of the quotes, but there is no way I would have received any better service or quality with anyone else.
The time and care that was taken made me 100% confident that I received the best bang for my buck – it was flawless.
On top of it all, they basically left my place cleaner than when they began the installation. You will not go wrong with Longwire.
I had Rob install a 3 TV set-up in our media room. He was very professional and very courteous in all interactions.
Going through the process of installing the TVs he even gave us some suggestions along the way on how to utilize our media room space. His pricing was phenomenal for the work that was done.
The install completely blew my wife and I away. I couldn't have asked for a better installer to do the job. I would recommend Rob and his team in a second!
I would highly recommend him in dealing with any audio or visual installation. I can't praise him enough!
I have had Rob and his crew do several projects for me, 2 of the most extensive a patio sound and TV and a living area theater large screen TV with multiple speakers.
I have never been disappointed with the equipment quality, installation, price, personnel or service. They are very, very good at what they do.
I would recommend them for any job large or small. They have ideas and suggestions I never thought of. The equipment they install is the best quality.
Occasionally when I mess up a setting or there is a gremlin in the system they are very responsive to come back and fix. I have a couple more smaller projects in mind and will definitely have them do those.
Upgrade Your Home To State-Of-The-Art Tech Systems and enjoy a seamless collaboration